Other articles
How to Bet the Belmont Stakes in 2017: Expert Advice
exacta bet belmont stakes
A Recognized Leader And Trusted Name In Sports Handicapping Since 1971
One E-mail A Week Is All You Need!
Our weekly newsletter is loaded with exclusive free picks, insight and advice from our expert handicappers
This is not going to be an easy Belmont Stakes to handicap. Some years it's very straightforward - if you were betting against American Pharoah you were just being contrary. But this year we aren't likely to see either the Derby or Preakness winner in the race, and we are left with a prospective field that is large and deep but which lacks a clearly dominant horse. As a result, we need to be very careful when deciding how we are going to be this race. This is when handicappers earn their credibility.
Free $60 in Member Belmont Picks No Obligation Click Here
Here, then, are four things to consider when trying to figure out how to bet the Belmont in 2017:
Take a stand on the favorite: At this point Classic Empire seems to be the likely favorite (neither Always Dreaming nor Cloud Computing have been ruled out as I write this, but neither is likely). He's likely to be a reasonably-priced favorite - 2/1 or better, probably - but you still need to seriously consider whether you are going to go with him or against him. If you are aggressively going to back the favorite then you can't afford to go really deep in the race. Favorites have won just three of the last 20 editions of the race, though, so it's not tough to justify trying to beat him and bet on higher-priced horses instead. This is a tougher situation to figure out than it is some years. There are good arguments in favor of Classic Empire and good arguments against him. I haven't figured out where I stand on him yet, so I don't expect you to have it figured out, either. Just make sure you have it figured out by race day.
Map the race out in your mind: In every race I handicap the most important thing I do is map out how I see the race shaping up. Once I have an idea of what the pace should be then I can figure out which horses have the best shot because of that pace.
The Preakness was a good example of how useful that can be - even if you aren't entirely right. I thought that Conquest Mo Money would lead Always Dreaming, with Classic Empire and Cloud Computing right behind, and I was confident that those four would make up the exacta (at least). It didn't quite turn out that way because Conquest Mo Money had a horrible start and was left behind, so Classic Empire moved up to be part of the pace. But in the end that is where the exacta did come from.
Figuring out the pace is especially important in a race this long and challenging. Last year, for example, the pace scenario made it quite easy to like Creator, and he came through at a nice price.
Watch the 'other' horses: In Triple Crown races it can be easy to be drawn to the favorites and lower-priced horses. That has served us well recently in the Derby and is usually a pretty good idea in the Preakness, too. In the Belmont, though, taking a risk on longer odds is a good idea. In the last 20 years we have seen seven winners of the race at 25/1 or higher and just three winning favorites. So, look beyond the horse or two that the public really likes and see if you can find a longer shot to love. At the very least, you can often go deeper in your bets in this race than others because of the tendency for surprises. This is especially relevant this year because there are a whole lot of 'other' horses who have some upside and you can make a case for. Of the 13 prospective horses in the field at this point there are eight or nine who are at least somewhat feasibly real contenders.
Look beyond this race: The Belmont will be tough, but it is just one race on a very strong card of races that day. There are five other Grade 1 races, two Grade 2s, and a Grade 3. It's like a Breeders' Cup card in June. That allows us to look for the best spots, and perhaps to use multi-race bets like the daily double, pick three or pick four to find better returns and more manageable risk. The Belmont Stakes is obviously the biggest of those races, but that doesn't necessarily mean that it will be the most attractive bet, and it certainly doesn't mean that it will be the only race worth betting on.
Wow! Free Belmont Stakes picks. And it could not be easier. Follow the link and sign up (no credit card required, and no salesperson ever), and you can have your free Belmont Stakes picks in minutes. Click here for the no-hassle sign up .
Most Recent Belmont Stakes Handicapping Articles
One E-mail A Week Is All You Need!
Our weekly newsletter is loaded with exclusive free picks,insight and advice from our expert handicappers
Horse Racing News: 2017 Belmont Stakes Odds - at
exacta bet belmont stakes
Irish War Cry 7/2
Lookin at Lee 5/1
Senior Investment 12/1
J Boys Echo 15/1
Twisted Tom 20/1
Hollywood Handsome 30/1
The 2015 Triple Crown saw Mike correctly predict American Pharoah to win both the Preakness Stakes and Belmont Stakes. Mike nailed the Exacta and Trifecta in the Belmont Stakes.
Mike had a solid 2014 Triple Crown race season, correctly picking the winning horse in 2 of 3 races. He selected I'll Have another to win The Preakness, and nailed Union Rags to win the Belmont Stakes as his top pick.
Mike also had past succes in the Kentucky Derby, winning with Animal Kingdom in 2011 and rode his top picks, Super Saver and Street Sense, to the finish line in 2010 and 2007 respectively.
No handicapper in the industry works harder to bring you analysis that produces profits at the track!
Mike's Reports include his selections, detailed analysis, a fair odds line, and wagering recommendations for the entire card.
Join Mike daily with top picks from Belmont. You can also get his Weekend Best Plays Report in his Multi-Track package or sit at the track with him for 30 Days with his Monthly Horse Package!
Jerry opened the 2016 Triple Crown season by hitting his Derby Day best bet, Nyquist. He also nailed the Derby exacta for a $30.60 payout. On 4/16/16 at Keeneland, Jerry hit an $819 exacta that led to a $38k Trifecta & a $300k Super.
Jerry is always looking to repeat his 2012 Triple Crown success, when he selected the winning horses for The Preakness and The Belmont Stakes.
Jerry looks forward to working with everyone and making money for anyone who invests in his picks on a daily basis.
Join Jerry daily with picks from Belmont Park and Santa Anita or choose a package that contains selections from Multiple Tracks for the LOW PRICE of $19.95! Or better yet, how about 30 Days of horse racing picks with his Monthly Racing Package for ONLY $99.95!
DerbyJackpot's Best Bets for Belmont Stakes Day, America s Best Racing
DerbyJackpot's Best Bets for Belmont Stakes Day
Photo by Eclipse Sportswire
America's Best Racing and DerbyJackpot team up to provide horseplayers with their best bets of the weekend in a regular feature blog that will run on Fridays.
Each week, one of our crack handicappers - Jose Contreras, Dan Tordjman, Victoria Garofalo or Cory Moelis – will provide at least one "Best Bet" of the weekend, ideal for a win bet.
The post also will include some combination of additional bets for the weekend.
For some posts, our handicappers will try to identify a longshot play of the weekend, a nice opportunity to swing for the fences on a win bet or to take a shot with a show bet.
Our handicappers also will look for strong exacta plays for the weekend or occasionally try to spot a nice opportunity to bet a trifecta or superfecta.
Place your bets at DerbyJackpot. It's the easiest and most fun online horse betting site out there. Races open for betting about five minutes before post time. Place your bets and you can walk away with some extra cash in your pocket.
CLICK THE IMAGE BELOW TO SIGN UP AND START WINNING!
This Weekend's Bets
Belmont Park, Race 10, Manhattan Stakes, 5:46 p.m. ET
#5 Big Blue Kitten: He came off a lengthy layoff last time and won for fun. One of the more consistent runners around, he likes to come from far out of it and I think there is going to be a decent pace up front.
#7 Slumber: Back at arguably his favorite distance, Slumber should be ready to run his best. After having trouble in each of his last two races, hopefully he gets a fairer run this time and can get a piece at a big price.
Best Bet (Win Bet/ Monkey Bet)
Belmont Park, Race 11, Belmont Stakes, 6:50 p.m. ET
#6 Frosted: All eyes will be on American Pharoah going for the Triple Crown, but that also means his odds will be lower than they should be. People want to bet him. That leaves an opportunity to make some money if you play against him, and Frosted is the horse I'm going to try with. He was one of the only horses to close in the Kentucky Derby, and he did it while being wide the whole way. He is still getting better every race and looks like he could be sitting on his best yet.
Belmont Park, Race 12, 7:38 p.m. ET
#10 Ocala Jim: In over his head last time, Ocala Jim drops back to a level where he belongs. A generous 10-1 on the morning line, he should be able to navigate into good position and come rolling late.
Related News
most popular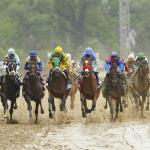 Related Stories
get our Newsletter
Follow Us on Social Media
Examining Value in Multi-Race Breeders' Cup Bets
Belmont Stakes
Belmont Stakes
The Belmont Stakes is the final leg of the Triple Crown, contested at Belmont Park in Elmont, New York on the first Saturday of June. The race is named after August Belmont I, an investment banker and thoroughbred owner who was president of the American Jockey Club.
The first 23 runnings of the race were held at Jerome Park. The race was then run at Morris Park for 15 years before moving to Belmont Park in 1905. The race was run at Aqueduct from 1963 until 1967 while Belmont Park was being rebuilt.
In 1870, a jockey recorded only as "Dick," a freed slave who later adopted the name Ed Brown, became the first African American jockey to win the race. He is still listed as "Dick" in the 2007 Thoroughbred Times Racing Almanac.
The Belmont Stakes has seen some of the most dramatic moments in all of racing. After all, it's the final leg of the Triple Crown, which has been won 11 times, the last being Affirmed in 1978.
Secretariat ran the fastest Belmont in 1973 (2:24) and won the race by 31 lengths, capturing the Triple Crown in the most memorable Belmont in history.
The second-fasted Belmont was run by Easy Goer and A.P. Indy, a full two seconds slower than Secretariat.
In addition to the eleven Triple Crown winners, there have been plenty of near misses. Since 1997 six three-year-olds headed to Belmont Park with a chance to win the Triple Crown, and all came up short.
The closest was in 1998 when the Bob Baffert-trained Real Quiet opened up a four-length lead with a furlong to go and lost in the final jump to Victory Gallop.
Thoroughbred racing's all-time leading female jockey, Julie Krone, became the first woman to win a Triple Crown race when she rode to victory in the Belmont Stakes aboard Colonial Affair in 1993.
James Rowe leads all trainers with eight Belmont wins. The most for an active trainer is D. Wayne Lukas with four.
Jockeys Eddie Arcaro and James McLaughlin share top honors with six wins each.
2016 Recap: Creator Rallies to Pull Off Upset
Where to Wager
Breeders' Cup News & Reports
Free Horse Racing Picks
Get free horse racing picks each day from expert race handicapper Michael Dempsey Click Here